FreshKube Demo Shows Promise for Temperature-Controlled Logistics
FreshKube recently conducted its first live demo at Spaces of Opportunity, an urban farm in Phoenix, Arizona, on June 14, 2023.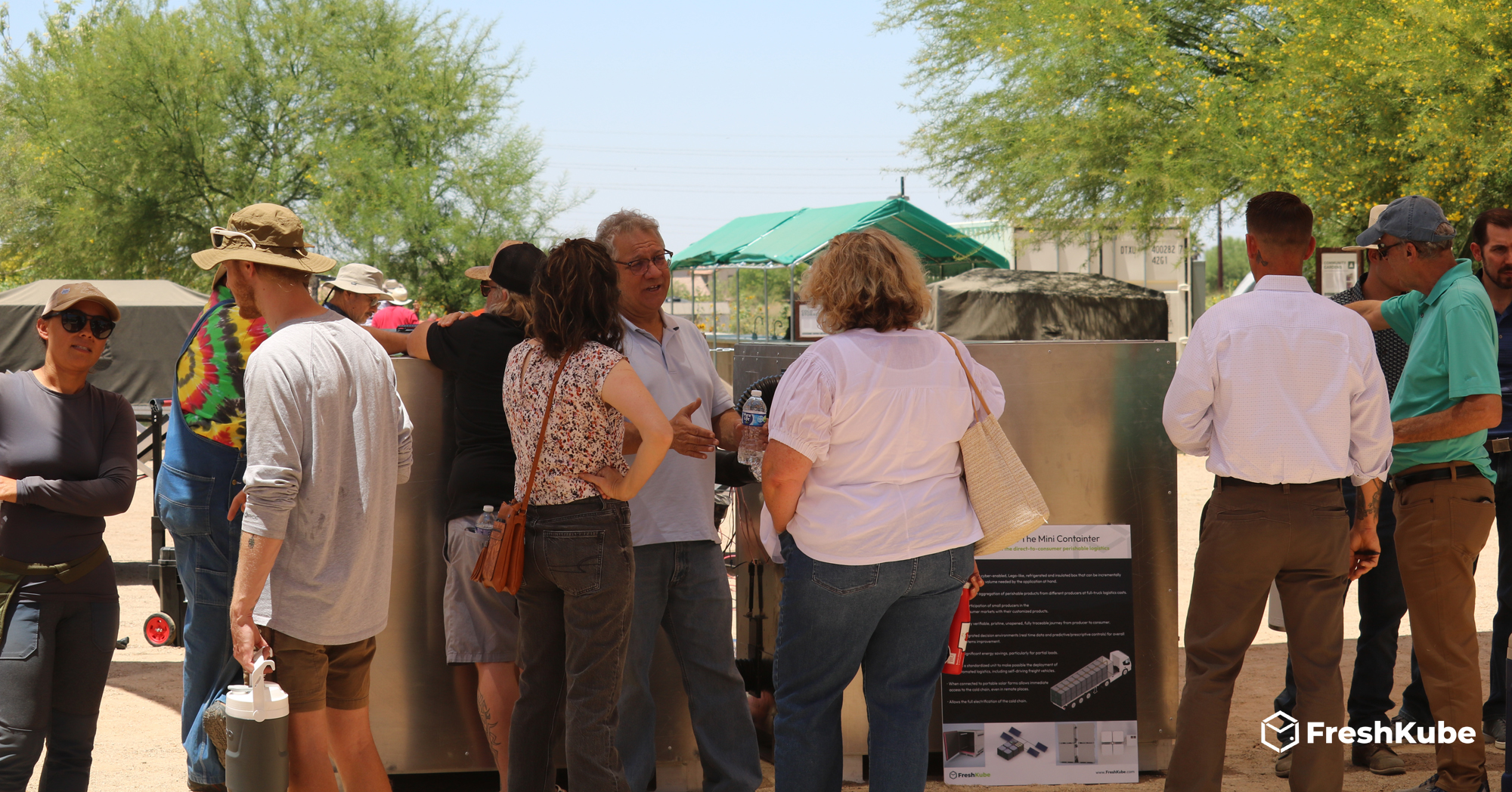 This groundbreaking event showcased the company's cutting-edge cold chain technologies and solutions, paving the way for a new era in temperature-controlled logistics.
FreshKube Technology Showcase
During the demo, FreshKube unveiled three remarkable technologies that have the potential to transform the industry:
FreshKube: A Lego-like refrigerated container that can be used to convert almost any truck into an efficient, refrigerated, capacity-sharing storage vehicle.
Central driving unit: A device that can control different temperature settings for each individual FreshKube.
Portable solar farm: A portable solar generation system that can be used to charge the batteries in the FreshKubes and the central driving unit.
The portable solar farm makes FreshKube technology even more sustainable, as it eliminates the need for fossil fuels to power the system and at the same time enables working in remote locations with no access to the grid. The energy used during the demo was exclusively from batteries recharged using the solar farm. This shows the potential of FreshKube technology to be a truly sustainable solution for cold chain logistics. The combination of batteries and the portable solar farm allows the early introduction of fresh crops into the cold chain, even in remote places without access to the grid.
The live demo involved showcasing FreshKube's temperature-controlled containers. Despite the extreme heat in Phoenix, its technology effortlessly maintained two different consistent temperatures within each FreshKube, highlighting its potential to safely and efficiently transport perishable goods.
The demo was a success, and it showed the potential of FreshKube technology to revolutionize the way temperature-controlled goods are transported. FreshKube has the potential to reduce food waste, improve food safety, and lower the cost of refrigerated logistics.
The demo was attended by a variety of stakeholders, including farmers, co-ops, aggregators, transportation companies, and government officials. The attendees were impressed with the FreshKube technology and its potential to improve the efficiency and sustainability of cold storage logistics.
The prototypes for FreshKube technology received sponsorship from the City of Phoenix, underscoring their commitment to supporting innovative solutions that enhance the local food system. The FreshKube technology has the potential to reduce food waste and improve food access in Phoenix, and the City is excited to see how the technology develops in the future.
FreshKube is currently looking for farmers who are interested in trying out the prototypes. If you are a farmer who is interested in learning more about FreshKube technology, please contact us.